Kickstarting a books revolution: the literary crowdfunding boom
Authors, publishers and literary journals are all finding new ways of connecting directly to their readers – and their wallets – on online platforms such as Kickstarter. Marta Bausells examines the books industry's new wave of social
financing and picks 10 of the best literary crowdfunding projects
An intriguing opening ... the first page of an illustrated
400th-anniversary edition of Don Quixote
, one of the literary projects that are sourcing funds from readers online. Photograph: Restless Classics/Kickstarter
As the digital revolution gathers pace,
the pressures on writers and publishers only increase
. But authors, magazines and independent presses are starting to respond to the challenge of the online world by turning to the internet themselves, reaching out to readers through crowdfunding websites such as Kickstarter.
Since launching in 2009,
Kickstarter
has seen $70m pledged to projects in the site's publishing category. But recent years have seen the number of successul books-related projects more than double, from 735 in 2011 to 2064 in 2014.

According to Kickstarter's publishing outreach lead, Margot Atwell, the book industry has lagged behind gaming, technology and design, perhaps because "traditional publishing can be a little conservative and risk averse". But "lately we're seeing more authors and high profile publishers," Atwell says. "They're becoming a critical mass and people are starting to notice it more."
Authors such as Eric Ries,
previously published by Random House imprint Crown Business
, are turning to the site as well. Ries posted an appeal on the site in March 2015 to fund a "250-page" book,
The Leader's Guide
, which is due to be available exclusively to those who pledged money to the project. The $135,000 goal was reached within a day, with users signing up for additional "stretch" goals which have made it the best-funded book-project on the site after raiding more than $500,000 from more than 9,000 backers.

And crowdfunding is clearly a no-brainer for self-published writers of all stripes, Atwell argues, allowing indies to "test the waters for an idea, mobilise the fans. Not everyone asks for the entire cost of producing the book – for example, some authors ask for money for a copy editor or a cover designer". The site also "helps build a community around a project, when it could otherwise be an isolating venture", she adds.

Users respond well to projects which offer something a little different, such as the "little free libraries" appeal, or an app that explores Florence in the steps of Michelangelo, Atwell continues. "This is a way to do something a little bit different than just making a book and selling it. You can do that too, but these platforms give publishers the capacity to involve fans directly, and skip all the layers between the creator and the reader."

And with users – and their pockets – playing such a vital role in the success of failure of each project, there's little chance Kickstarter will find itself coopted into becoming a marketing tool for publishing conglomerates.

"This only works if backers respond," Atwell explains. "If traditional publishers do projects that are really appealing to their fans, great – if someone were to use platform more cynically, readers are smart."

10 of the best crowdfunded literary projects

Independent press Restless Books, a new publisher of world literature, is calling for funds to publish an illustrated edition of Cervantes's classic with original illustrations by artist Eko, as well as a series of video lectures by Ilan Stavans, humanities professor and publisher of the press, and online book club discussions about all the books it publishes. [Goal: $20,000. Status: $20,864. successfully funded]

This city tour by publishing imprint Time Traveler Tours & Tales wants to build an interactive app that would guide users through Florence – more specifically, through the streets and sites in which Michelangelo lived and worked. [Goal: $40,000. Status: open]
Starting as a pop-up library created by a teacher in Wisconsin,
Little Free Libraries
has scattered more than 25,000 mini libraries around the world in the last five years. They launched a crowdfunding campaign to install hundreds more libraries and create resources for teachers and communities, "so that nobody has to live in a world without books". They reached their goal a few weeks ago. By the way: here's
a Guardian article on how to start your own
, if you're so inclined.
[Goal: 50,000. Status: successfully funded]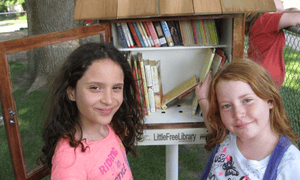 A mini library. Photograph: Little Free Library/Kickstarter
It is a truth universally acknowledged that black cats, if cute, are
damn difficult to photograph
– and also to accurately draw, as the illustrator Peter Arkle and writer Amy Goldwasser
found out when designing their own Christmas card
. Their hand-drawn and hand-written book, All Black Cats Are Not Alike, featuring 50 different, hand-drawn black cats, has reached its funding goal – with the added user-generated-content bonus of letting their backers choose 48 out of the 50 cats (the couple's own are non-negotiable).
[Goal: 28,000. Status: successfully funded]
A mockup of All Black Cats Are Not Alike.
Writer Ben Aitken has been retracing Bill Bryson's journey across the UK, coinciding with the 20th anniversary of his
Notes from a Small Island
– and he's kept a journal of his travels, where he draws comparisons between Britain then and now.
[Goal: $8,000. Status: successfully funded]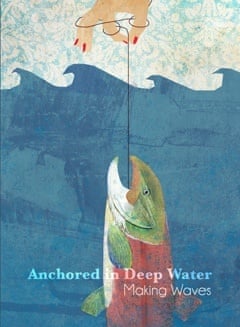 A seven-book anthology,
Anchored in Deep Water
has just been printed after successfully raising more than $10,000. It comprises prose and songs, all written by working fishermen and women.
[Goal: $10,000. Status: successfully funded]

This is an example of an author who is published by a traditional house taking to Kickstarter – and it's also the most-funded book project in the platform so far. The campaign consisted of an exclusive book only to be made available to his pledgers, and raised more than $500,000 – an interesting publishing experiment.[Goal: $135,000. Status: successfully funded]
Independent press and magazine McSweeney's turned to its fans to fund a "next wave" of projects, from producing magazines including the
Believer
or podcasts like
The Organist
to publishing books like
That Thing You Do with Your Mouth
. With rewards that range from a thank-you letter in Comic Sans to exclusive posters of San Francisco by
Paul Madonna
, the team comfortably reached their goal ahead of the campaign's closure.
[Goal: $150,000. Status: successfully funded]

This new German magazine aims to look at topics of social change over time, and for its first issue it has chosen the internet itself. So get ready to travel back to the early days of digital and jump forward to imagine the web in 2096. A new concept is promised for every issue. Intriguing. [Goal: 30,000€. Status: open]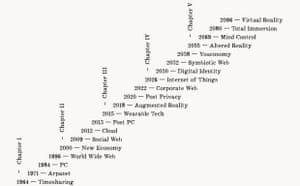 A timeline of the future internet ... from The Future Chronicles
Reading Rainbow was a beloved US television programme that aired between 1983 and 2006, and which taught kids reading skills and attitudes. LeVar Burton, its presenter,
launched a campaign last year
to bring it back through a web application. It raised more than $5m, and the project just launched
its new website
.
[Goal: $1,000,000. Status: successfully funded]